GREENVIEW REGIONAL MULTIPLEX
The children's play area is a two-story play structure with a tots play area.
Childmind is available for children ages 6 months to 10 years old.
Childmind care is only available to parents/guardians who remain in the facility at all times while their child(ren) are attending drop-in care.
Please bring a healthy snack, water, socks, indoor shoes and a labelled bag with extra clothes.
Childmind rates are not included in membership rates. Childmind must be pre-registered and pre-paid for before using child mind services.
Indoor Play Centre is available for public use when Childminding is not available.  Children must be supervised at all times while utilizing this space.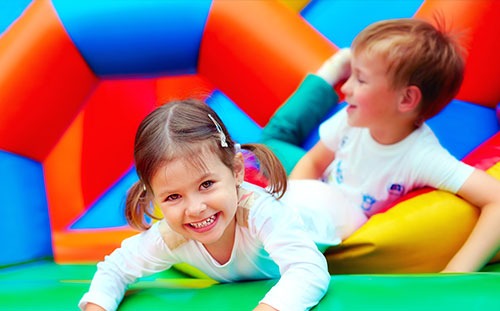 CHILDMIND REGISTRATION
Reservations
Reservations can only be made by calling Guest Services during operating hours or in person. Greenview Regional Multiplex members can book in advance to reserve their space. Members registered for programs or lessons have priority space. Non-members and drop-ins can book a day in advance. All cancellations must be done within 24 hours of booking. Space is limited and filled on a first come first serve basis.
Drop-in
Drop-in spaces may be available every day on a first-come, first-serve based on availability. However, if you choose to drop in, please note space may not be available as staffing is determined by pre-registering space. It is recommended that you call ahead to confirm space is available.
Punch passes can be used for more than one child, only one punch per child.
Parents are not allowed to leave the facility when their child is in Childmind.
CHILD MIND RATES
$5 per hour per child.
$40 for a 10-punch pass
$70 for a 20-punch pass
Pre-paid Passes available 
$40 for a 10-hour pass
$70 for a 20-hour pass