GREENVIEW REGIONAL MULTIPLEX
Located on the second floor of the Greenview Regional Multiplex, the Fitness Centre covers over an 8,000-square foot area and is packed full of premium-quality exercise equipment.
From our massive selection of urethane free weights to the touch-screen WIFI-enabled treadmills and everything in-between, the Fitness Centre is equipped to ensure you have all the tools necessary to reach even the most demanding of fitness goals. Whether you are stepping into the gym for the very first time or if you're a seasoned veteran, our knowledgeable and experienced staff are available 5 days a week to assist you get the most out of your workout.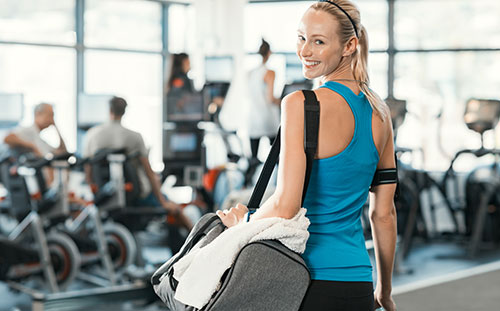 Progress tracking, made easy!
Progress tracking is a proven method of improving personal fitness plan adherence. Several pieces of our fitness equipment are WIFI-enabled, allowing users to synchronize their workout directly to their phone or tablet in real-time. Connection provides workout tracking and gives you access to personalized workout which will automatically track and adjust select factors like speed, incline and resistance. See our fitness center staff for more information and assistance setting up an account.
FITNESS FACILITY INFORMATION
Weight Training
Come explore our 8,000 square foot fitness center packed full of top-of-the-line weight training equipment. Urethane weights provide grip comfort and reduce noise when adding and removing weights. Featuring:
Olympic Platform: The Olympic platform combines a stable hardwood platform with rubberized cushioning to provide a premium lifting experience. The Olympic platform is also attached to a squat rack which provides a perfect place to do heavy squats, deadlifts, and overhead presses. This is the only space guests will be permitted to drop weights to prevent damage to our beautiful floors.
SYNRGY360 System: The SYNRGY360 system creates a fun, inviting and meaningful workout experience for all exercisers. This unique piece of equipment offers six exclusive training spaces and a seven-handle monkey bar zone. The SYNRGY360 system stations feature a continuous rope climb, an adjustable box jump platform and dip station, battle ropes, cable station, barbell power-pivot and a virtually unlimited combination of bodyweight exercise uses. This versatile piece creates a transformational and inspiring fitness experiences for a diverse audience of exercisers. It is ideal for dynamic small group training, one-on-one personal training, or for individual exercisers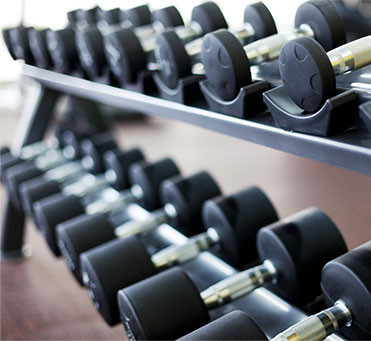 Cardiovascular Training
Cardiovascular training is any physical exercise of low to high intensity that depends primarily on the aerobic energy-generating process. This includes walking, running, cycling, and a variety of exercises that increase heartrate. The Low Impact Fitness Centre hosts a large cardio training area which includes treadmills, stair climbers, recumbent bikes, ellipticals and more.
Additionally, a large portion of the cardio equipment is fitted with large, touchscreen displays and WI-FI-enabled access to allow seamless workout tracking directly on your smartphone or tablet.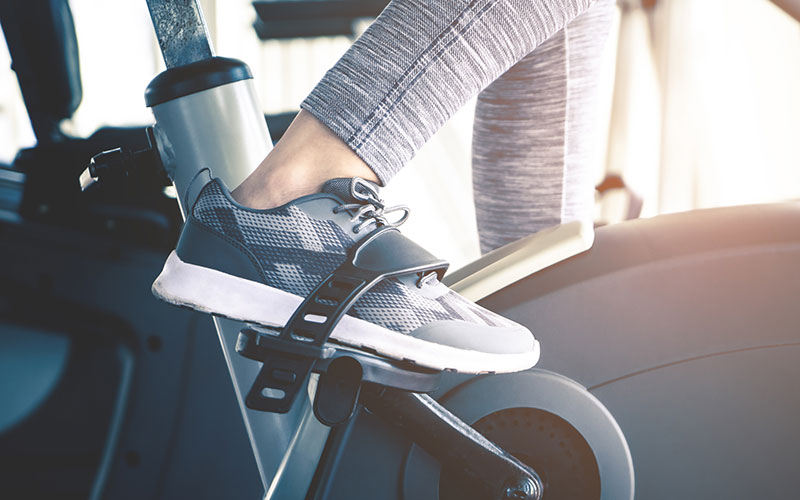 Inclusive Equipment
The staff at the Low Impact Fitness Centre are committed to assisting each and every member of our community to live an active lifestyle in and out of the gym. On the second floor, in addition to our premium athletic facilities and fitness equipment, guests will find several pieces of inclusive equipment, including:
Cybex Rear-entry Arc Trainer – Train for strength, power, endurance, cardio, and weight loss. The Arc Trainer is a load dependent machine which means that the resistance is scaled to the user's weight. Additionally, the Arc Trainer offers three exercise zones for the ultimate in variety. The low position is designed for a glide exercise, the medium position for a stride and the high position provides a climbing exercise. The rear-entry design allows for the easiest possible access for users with limited stability or leg strength.
SCIFIT Pro2 Total Body – The Pro2 combines an upper body exerciser and lower body recumbent bike to offer a total body solution with dependent motion which allows the stronger extremities to assist weaker ones. This functionality, combined with the near-zero starting resistance, provides a versatile total-body rehab experience for all users. Additionally, the step-through design and removable seat allows for limited-mobility and wheelchair access.
Cybex Total Access Cable Column – A multi-function machine offering a very wide variety of exercises for all non-disabled and disabled users. Featuring two large stability handles coupled with a minimal 2.5 kg start weight increased in 1.25 kg increments provides an optimal environment for single arm exercise or for users with stroke or other upper body impairment. The integral 3-position Twist Select mechanism offers ease of weight selection from a seated exercise position. Additionally, the pistol grip height adjustment enables adjustment of start height with one hand, essential for amputees and stroke users.
Octane xRide Recumbent Elliptical – The Octane xRide has 20 seat height positions and 5 seat tilt settings on a large, step-through platform allowing access and comfort for any size user. The defining feature that sets the xRide recumbent elliptical apart is it's 16″ PowerStroke technology which allows for optimal leg extension and power drive, delivering more muscle engagement.
Fitness Studios
Our fitness studio flooring has been specifically designed to allow for maximum spring and cushioning without sacrificing rigidity. This provides an extremely pleasant exercise experience while being easier on the joints. Heavy impact and jarring forces from activities, such as jumping, are partially absorbed into the floor, reducing stress on the knees and hips.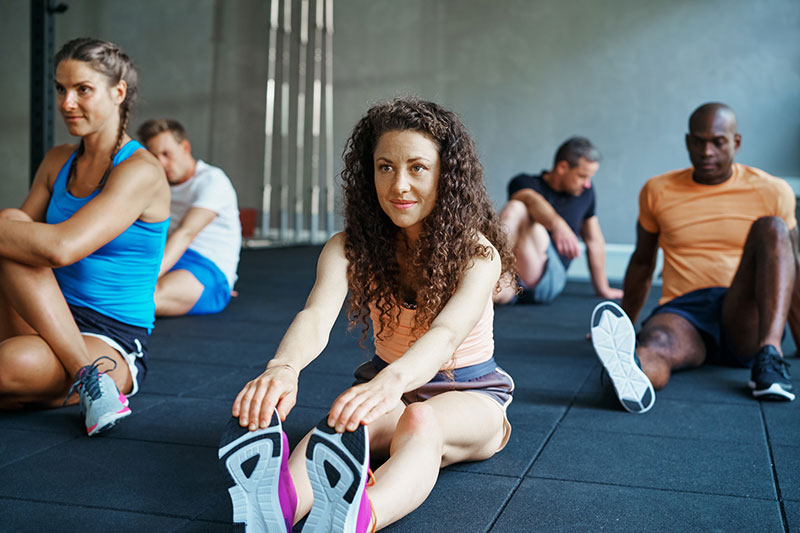 Personal Training
Are you looking for a little help to get started or reach a personal goal? Our friendly, knowledgeable, and fully certified personal trainers are available to help you develop a fitness program that is tailored to you and your personal goals.
Free one-hour gym orientations are available with memberships – appointments are necessary.  Please call 780-524-4097 to book.