GREENVIEW REGIONAL MULTIPLEX
Aquatic Centre at a Glance
25m Main Pool with 4 lanes
Leisure Pool with Lazy River & Tot Play Pool
Hot Tub
Steam Room
Changerooms – Fully Accessible
Viewing Area – Main Floor & 2nd Floor Viewing
Moveable Chair Lift
Registered Programs, Private Lessons and Water Fitness Classes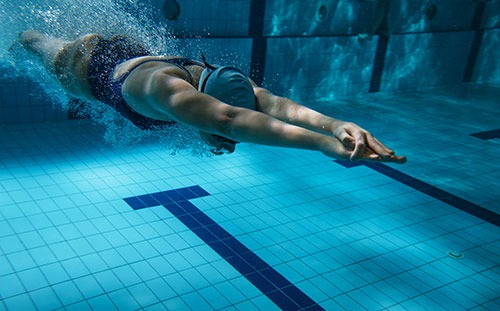 ** All Children 0-7 years of age must be accompanied into the pool by a responsible caregiver 13 years of age or older & remain within arm's reach at all times.  A responsible Caregiver may supervise up to 3 Children aged 0-7 at one time. **
Aquatic Centre
The aquatic area has a 25m pool with 4 lanes, a leisure pool with lazy river and tot area, a hot tub and steam room, change rooms for families, men and women, an adjacent party / multipurpose room, main floor dry viewing and overflow viewing on the second floor.
The Aquatic Centre is equipped with a moveable chair lift and a fully accessible changeroom. Programs are offered for all age groups and for swimmers of all skill levels. In addition to swimming lessons, registered water fitness classes will be made available to provide swimmers and non-swimmers a guided low-impact, exercise. Wanting to come and enjoy the aquatic facility at your own pace? Please see the aquatic schedule to see availabilities for specific swim times throughout the day.
The hot tub and steam room are available to the public during most swim times apart from private lessons and rental time slots. Due to high temperatures, only those aged 16+ may utilize the steam room. Please be sure to familiarize yourself with posted guidelines.