ICE FISHING
The Grande Cache area is known for its excellent fishing at Grande Cache Lake, Victor Lake, Pierre Grey's Lakes – in a remote mountain setting.
For more information on the fishing and surrounding lakes, please click here.
SNOWSHOEING
This activity is largely dependent on the weather conditions, as Grande Cache is Chinook country.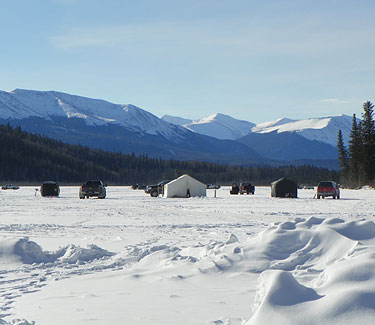 Periods of high winds combined with periods of cold weather can create dangerous slabs, ready to slide on the unwary, so be careful.
As an alternative to the trails, especially during those years with lots of snow, try the creeks. Some of the smaller ones make great routes, and you'd be amazed at some of the interesting places that can be found.
CROSS COUNTRY SKIING TRAILS
GRANDE CACHE MUNICIPAL CAMPGROUND GRANDE CACHE GOLF COURSE
Groomed Trails for both classic and skate skiing can be found within Town limits at the Municipal Campground and at the Golf Course, which are adjacent with connected trails.
Part of the campground is lit to provide 1 km night skiing. The total combined distance for the campground and golf course trails is about 10 km.
Watch for signs of elk or deer, which sometimes bed down on the golf course.
The trails are maintained by volunteers of the SMOKY RIVER NORDIC SKI CLUB  F: Smoky River Nordic Ski Club
PIERRE GREY'S LAKES RECREATION AREA
About 15 km (9.3 mi.) of tracked trails for classic skiing are set through forested loops around the lakes.
There is a warm-up shack, picnic tables, and a small toboggan hill for those too young to ski located in the McDonald camping area. Trails are available for beginners to advanced levels.
Pierre Grey's Lakes are located 30 minutes south of Grande Cache, on Highway 40. It is a remote area, without cell coverage.
Trails Maps can be obtained from visiting their Facebook page at Smoky River Nordic Ski Club.
TOBOGGANING
ANTY'S HILL
TOBOGGAN HILL
At 105 Street and 105 Avenue, you'll find a large hill, perfect for an afternoon of tobogganing if you're travelling with younger children.
DISCLAIMER
Neither the Author nor Grande Cache makes any warranties, express or implied, nor assumes any responsibilities for the accuracy of the Ice Climbing information contained in the Visitor Guide.
Some of the Ice Climbing and trails described are remote and users may encounter conditions due to weather and other factors that were not present when the Visitor Guide was created.
There are inherent risks and potential hazards using all trails and any portion of a trail may be unsafe. Users assume the entire responsibility and risk for use of the information in this Guide, the Ice Climbing and trails. The Author and Grande Cache disclaim all responsibility and liability for death, injury or other damage that may be sustained by anyone using the information about Ice Climbing.