MUSKEG FALLS
Muskeg Falls is our most stunning waterfall, and the hike is fairly short. Most of the trail is an easy walk through spruce forests, but the trail then descends sharply to the falls, with tricky footing.
Use extreme caution: much of the cliff edges are very unstable, and the rocks are slippery.
The upper trail to the right will take you along the top ridge of the riverbank, directly above the falls.  The fork to the left goes to the bottom edge of the falls. Both are very steep.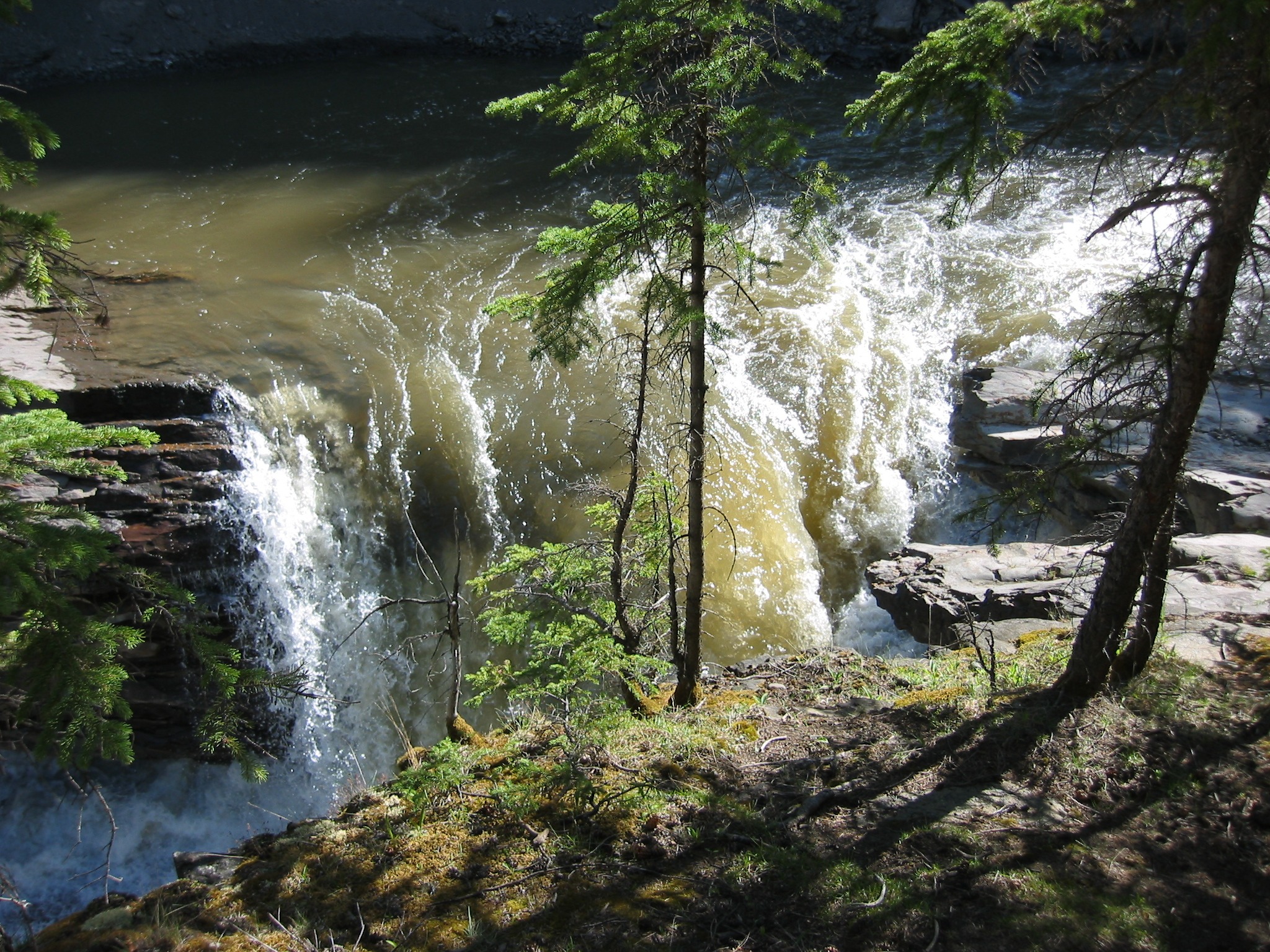 Location
Drive 16 km south on Highway 40 and turn into the first rest stop on the left-hand side (north side) of the road. There's a small trail, usually flagged, off to the north.
TWIN FALLS
A popular short hike that's great for families or those seeking something less challenging.
A small set of falls, it's an interesting hike as the surrounding terrain changes frequently, so you may be doing a bit of route-finding!
The trailhead is about 11 km north of town, then a short drive off the highway to where the hike begins.
The ground around the falls and creek can be quite unstable, so use caution!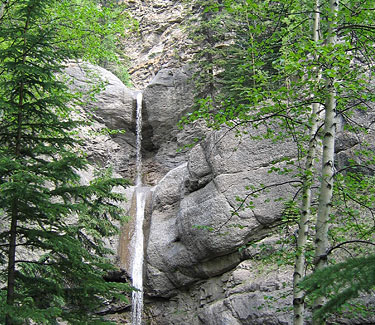 Location
To reach the trailhead, drive 11.3 km north of Grande Cache on HWY 40 and turn left onto the dirt road.  Follow this about 0.7 km to where it reaches a power line and dead-ends at Hells Creek.  The trail leads up the south side of the creek to a signed viewpoint of the Falls.
EATON FALLS
3.6 km one way
This is usually the first spot that people head to in Willmore Wilderness Park.
It is mostly a moderate hike on a clearly defined trail through lightly forested areas, but there are some challenging hills at the start!
The trail extends for about 2 km over hills and gullies. A trail will then branch off the main trail to the right and is marked by an old moose antler with the words "Eaton Falls" inscribed on it.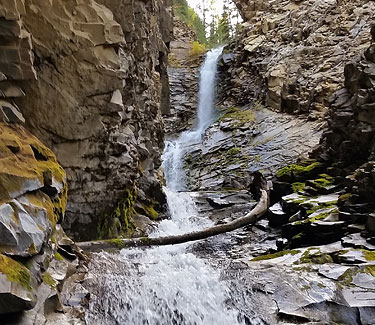 (This trail marker is very easy to miss and the trail itself is rather narrow)
Walk for about another 500 meters and you will see and hear Eaton falls.
The falls flow over an enormous rock face from jagged cliffs high above the treetops.  A refreshing, cool breeze will greet you as you approach the falls.  Many large rocks line the final few meters towards the base of the falls, making for slippery conditions.  Use caution.
Location
Drive to the Sulphur Gates Staging Area.  Park and proceed to the large trailhead (southwest corner) at the far end of the parking area. Follow the downhill trail that goes to the right.