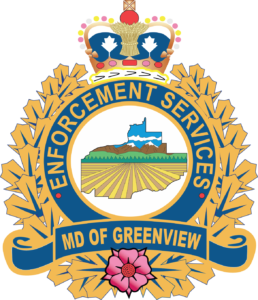 Enforcement Services
The Municipal District of Greenview's Enforcement Services team work to ensure the municipality is a safe and secure place to live, work, and play. Enforcement Services personnel have been appointed by the MD of Greenview and Alberta's Solicitor General to perform a range of duties under the authority of the Peace Officer Act and enforce Municipal Bylaws and Provincial Statutes.
Enforcement Service's staff operate under the leadership of a Sergeant, with three Community Peace Officers and a contracted Animal Control provider within the Hamlet of Grande Cache. Community Peace Officers are stationed in Grovedale, Grande Cache, and Valleyview to ensure ample coverage to Greenview ratepayers and stakeholders.
Our Community Peace Officers work throughout Greenview to provide the following services:
Investigate municipal bylaws and select provincial legislation complaints
Enforcement of municipal bylaws
Enforcement of Province of Alberta statutes, including but not limited to:

Traffic Safety Act
Gaming, Liquor & Cannabis Act
Tobacco Reduction Act
Environmental Protection Act
Trespass to Premise Act
Animal Protection Act

Animal control duties
Assist RCMP, EMS & Fire-Rescue services
Patrol of residential, commercial, industrial areas and roadways within the MD of Greenview
Attend special events to assist in public safety & security
For more information on animal control and licensing, visit the Animal Control & Licensing page.
Contacts
Sergeant, George Ferraby
Email: george.ferraby@mdgreenview.ab.ca
Cell: 780-552-4621
Community Peace Officer, Brenda Tunke (Grovedale)
Email: brenda.tunke@mdgreenview.ab.ca
Cell: 780-558-9306
Community Peace Officer, Francisco Gutierrez (Grovedale)
Email: francisco.gutierrez@mdgreenview.ab.ca
Cell: 780-552-4346
Community Peace Officer, Eva King (DeBolt)
Email: eva.king@mdgreenview.ab.ca
Cell: 780-552-4826