Municipal Elections
2021 MUNICIPAL ELECTION INFORMATION:
Nominations for the next general election will be open between January 1, 2021 and September 20, 2021. Signed nomination forms can be dropped off with a Deputy Returning Officer at the Valleyview, Grande Cache, and Grovedale Offices from January 2, 2021 until Noon, Monday September 20, 2021.
USEFUL LINKS:
FOR MORE INFORMATION:
Danie Leurebourg; Returning Officer
Phone: 780-524-6103
Email: Danie.Leurebourg@mdgreenview.ab.ca

Councillors sworn in January 11, 2019
Grande Cache officially became a hamlet within Greenview on January 1, 2019. Councillor Tyler Olsen (left) and Councillor Duane Didow (right), were sworn in on January 11, 2019 during their first MD of Greenview Council meeting.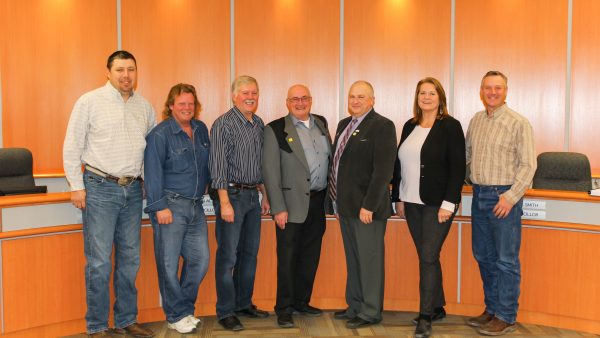 Municipal Election 2017
The 2017 Municipal Election was held on October 16, 2017 from 10:00 a.m. – 8:00 p.m. The next Municipal Election will be October 18, 2021.
From left to right: Councillor Winston Delorme (Ward 1), Councillor Shawn Acton (Ward 4), Councillor Les Urness (Ward 3), Reeve Dale Gervais (Ward 2), Deputy Reeve Tom Burton (Ward 6), Councillor Roxie Rutt (Ward 7) and Councillor Bill Smith (Ward 8). Not pictured: Councillor Dale Smith (Ward 5).
OFFICIAL ELECTION RESULTS 2017
Ward 1 – Winston Delorme
Ward 2 – Dale Gervais
Ward 3 – Leslie Urness
Ward 4 – Shawn Acton
Ward 5 – Dale Smith
Ward 6 – Tom Burton
Ward 7 – Roxie Rutt
Ward 8 – Bill Smith