Welcome to the MD of Greenview.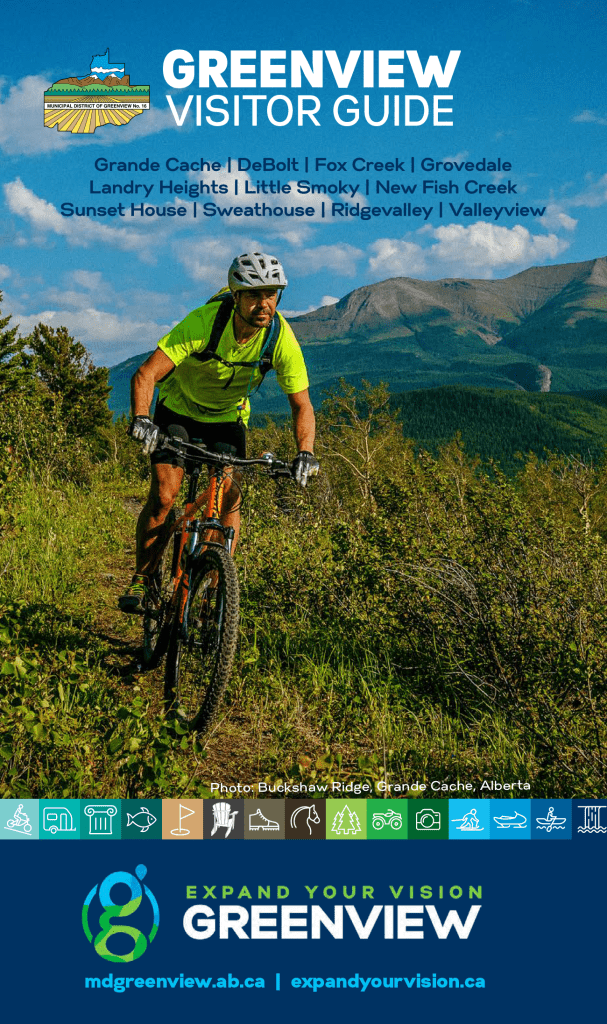 Start planning your visit to Greenview, where the landscape is as diverse as the adventure that awaits.
Welcome to the MD of Greenview,the third-largest rural municipality in the province of Alberta. Our services combined with our unique landscape provide citizens and visitors with a wide range of business, cultural and recreational activities.
"Mountains to meadows" describes our unique Greenview landscape.  Whether you're here for the night or a lifetime, you'll find us friendly, hard-working and resourceful.
The MD of Greenview includes the hamlets of Little Smoky, Ridgevalley, DeBolt, Landry Heights, Grande Cache and Grovedale. Our borders encompass the Sturgeon Lake Cree Nation and the towns of Fox Creek, and Valleyview, while Grande Prairie is our neighbour to the west. Serviced by Highways 40, 43 and 49, railways and a major airport in Grande Prairie, transportation is convenient and efficient. With the spectacular panoramic vistas of the Canadian Rockies only two short hours south of Grande Prairie, Grande Cache offers endless tourism and recreation opportunities.
Greenview offers an array of rivers, brilliantly blue lakes, untouched prairie meadows, fertile farmland and endless peaks of the majestic Rocky Mountains. Untamed wilderness promises an abundance of outdoor activities. Modern indoor recreation facilities provide sports and recreation activities year-round.
Agriculture, forestry, oil and gas, coal and tourism are all mainstays of both the local and provincial economies. Approximately one-quarter of the land within Greenview is suitable for agricultural development, with other natural resource development primarily in the foothills and green areas in the south and west of the municipality. Recreation and cultural facilities abound, with a variety of museums, arenas, golf courses, parks and community halls.
Explore Grande Cache.
Grande Cache is located in the northern part of the Rocky Mountains, in western Alberta, Canada.  Highway 40 (Bighorn Highway or Scenic Route to Alaska) connects Grande Cache with Grande Prairie to the north (183 km) and Hinton to the south (143 km).  Jasper is 210 km south of Grande Cache and Edmonton is 450 km east of Grande Cache. This small mountain town is adjacent to the unspoiled Willmore Wilderness Park.
Click here to view the Greenview Visitor Guide 2022