GREENVIEW REGIONAL MULTIPLEX
Indoor Walking Track
The Walking Track is a 136m, 2-lane track that is located on the 3rd floor of the Greenview Regional Multiplex, overlooking the Fieldhouse below. Access to the running track is included as part of general membership or daily admission.
Featuring a joint-friendly, specifically designed rubberized flooring with a traction-enhancing textured running surface, our walking track is an excellent escape from the mud on those wet spring days or as a sanctuary throughout the cold Northern Alberta winters. Additionally, each corner of the track has been equipped for cross-training exercise. Near the entrance to the track is a large stretching area with yoga mats, kettlebells, and an incline bench. In the opposite corner are spin bikes which provide a low-impact cardiovascular workout that builds both strength and endurance.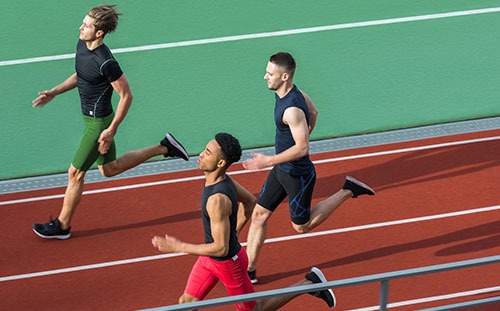 WALKING TRACK RULES & ETIQUETTE
For your safety, please do not lean on or reach over the walking track railing.
Please wear appropriate exercise attire and closed-toe, indoor fitness shoes.
Strollers, walking aids and wheelchairs are permitted on the walking track, however, please ensure the wheels are clean prior to accessing the 3rd floor.
Please utilize the designated rest and stretching areas and refrain from standing or resting on the walking track lanes.
The walking track lanes change direction daily. Please observe and respect the designated track direction prior to beginning your workout.
Much like the lanes on a highway, the inside walking track lane (closer to the railing) is meant for walking and slower runners and the outside lane is meant for running. Please respect all other guests and use the lane most appropriate for your activity
Please do not bring any balls or equipment from the fieldhouse onto the walking track. Throwing of any objects from the walking track may be grounds for immediate revocation of membership or access to the facility.
Children 13 years of age and younger must be actively supervised by a supervising adult.