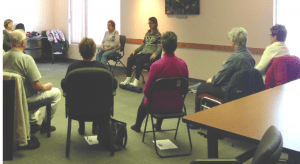 Adult & Family Programs
For more information call or send us a message on Facebook:
Green View Family & Community Support Services-FCSS, Valleyview office
Phone:  780-524-7603
Facebook Green View Family & Community Support Services-FCSS 
Green View FCSS (Grande Cache office)
Phone:  780-827-4336
Facebook Green View FCSS – Grande Cache Office
Balance: This program is designed to help older adults increase strength and flexibility for fall prevention, contributing to a person's ability to remain independent and in their homes for as long as possible. *Available in Valleyview and area
Breakfast With The Guys: Men are uniquely positioned to exert influence on other boys and men in their lives and this event seeks to build male leadership in the cause of stopping gender-based violence. It is hosted in partnership with the Alberta Council of Women's Shelters.
Community Activity Fee Funding: For those in addiction recovery, healing after a traumatic experience, or experiencing physical or mental health challenges, this program provides access to the Grande Cache Recreation Centre public swimming, public skating, and fitness centre. *Available in Grande Cache
Creative Grief And Loss Support: Available to individuals 16+ years of age. A certified facilitator works with clients during their grief journey providing insights and tools to assist in healing. This process uses art as a tool to help lessen the pain of grief trauma. Support can be accessed virtually or in-person by appointment.
Green View Baby Book Bags: FCSS purchases and compiles book bags containing books and other resources which are then distributed by Alberta Health Services to families with newborns.
Mother-Daughter Circle: The purpose of this program is to promote a healthy, sustainable bond between mother and daughter during the transitional years from girlhood to young womanhood.