The Grande Cache Campground offers full-service RV or tent camping in a spectacular mountain setting.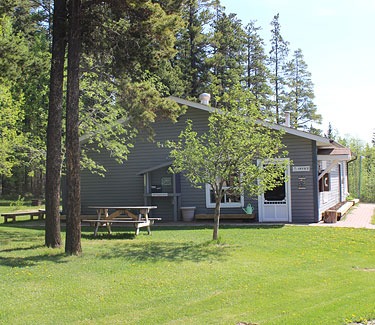 Located within the Hamlet of Grande Cache, our campground has immediate access to baseball diamonds, hiking and multi-use trails, and the Grande Cache Golf & Country Club. The campground is operated by Grande Cache, MD of Greenview and is open May long weekend until October (weather permitting).
Online Booking Information & COVID-19 Safety Precautions:
Grande Cache Campground will open on May 21, 2021.
Online Reservations start May 12, 2021, at 7:00 am.
Grande Cache Campground will close for reservations and bookings effective October 12, 2021.
Please read and comply with the information below:
1 RV per site with functioning toilet/shower
Group tent sites will be restricted to social distancing requirements and current COVID-19 guidelines
Shared use facilities such as bathrooms, showers, laundry, playgrounds, picnic areas, and cook shack will be limited in access to 1 user or family at a time.
Campers must use dumpsters located by the woodshed for all garbage and recycling. DO NOT use firepits for garbage
Physical distancing requirements must be adhered to at all times and observe gathering restrictions by staying in own campsite
Co-mingling of campsites is NOT PERMITTED to ensure safe physical distancing
COVID-19 prevention measures are in effect following Alberta Health Services recommendations:
Please do not enter the campground if you are experiencing symptoms including cough, fever, shortness of breath, runny nose or sore throat that is not related to a pre-existing illness or health condition, or are otherwise required to isolate or quarantine
Bring a cloth or sheet to cover the picnic table in your site before using it
Bring alcohol-based sanitizer recommended for hand hygiene when soap and water are not available
A Greenview Campground Attendant will sanitize each site after each use
Phone: 780.827.2404 during regular office hours (8:30 am – 7:00 pm)
Email: campground.grandecache@mdgreenview.ab.ca
Online Reservation: https://www.campreservations.ca/sites/site-details/673
Facility Features
77 large treed sites (56 full-service, 21 partial-service, 1 open tenting area)
All sites include a picnic table
Laundry facilities
Shower and washroom facilities
Lit roadways
Free WiFi
2021 Fee Schedule (prices include GST)
Full-service (power, water, and sewer) $40.00 per night
Partial-service (power and water) $35.00 per night
Monthly site rate (full service, 30 days)

$1008.00 per month (contact for availability)

Tenting (open area) $25.00 per night
Firewood $20.00 per load wheelbarrow load
Shower/washroom facilities Free of charge
Laundry facilities Coin-operated
CAMPGROUND RESERVATION PROCEDURES
You will require a VISA/MC/AMEX and a valid email address (so you can receive your electronic receipt and reservation confirmation).
MAKING A RESERVATION
Click here to reserve your campsite on our secure server
Should you encounter problems with using the system, please email bookings@campreservation.ca with your issue and your telephone number and they will get in touch with you and guide you through the process.
CANCELLATIONS
"No Shows" will not be refunded under any circumstances.
If you wish to cancel your online reservation and receive a refund, we require a notice of a minimum of 3 business days (with noon being the starting time). All cancellations will be subject to a $5 service fee, and a one -night non-refundable deposit. There will no exceptions, regardless of the circumstances, so please see the examples below.
Example 1: You have a reservation for a long weekend (Friday, Saturday, and Sunday nights). On Tuesday, you have a family emergency and you know that you will not be able to go camping that weekend. If you contact the Grande Cache Campground by telephone or email before Tuesday at noon, you will qualify for a refund. This allows 3 complete business days before the noon check-in time at the campground on Friday. If you call at any time after 12 noon on Tuesday, you will not receive any refund. No exceptions.
Example 2: You have a reservation that starts next Tuesday. On Thursday you decide that you have to cancel your reservation. If you contact the Grande Cache Campground by telephone or email before Thursday at noon, you will qualify for a refund. This allows for 3 business days' notice (Friday, Monday, and Tuesday) before the noon check-in on Tuesday. If you call at any time after 12 noon on Thursday, you will not receive any refund. No exceptions.
INFORMATION AND CAMPGROUND PROCEDURES
Length of Stay Policy
Check-in time 2:00 pm
Check-out time 11:00 am
All campers must register prior to parking their RV unit or setting up their tent
Office hours are posted on the building
Site checks are done daily by staff
Camp Permit Policy
No one under 18 years of age will be granted a camping permit
Cleanliness
Please keep your campsite clean at all times
Remember to store all food in a safe place. Do not leave any food, empty cans/bottles, garbage, dog food, or bear attractants lying around
Remember to keep BBQs clean
A bottle/can recycle bin is located across from the Wood Shed
Quiet Time
Quiet time 11:00 p.m. to 9:00 a.m. Quiet time is strictly enforced and noise will not be tolerated during these hours. Please respect other campers.
Campfires
Campfires in designated fire pits only
No open or unattended fires
Fireworks are not allowed
Pets
All pets must be on a leash at all times
You are required to clean up after your pet
Grey Water
DO NOT drain grey water into the trees or bush, work areas or grass
The sewage dump is located in front of the Operations Office at 9706 Shand Avenue or at the full-service sites
Shower, Washroom, and Laundry Facilities – Open under COVID-19 guidelines of limited use
Located beside the main Campground Office
Shower and washroom facilities are free of charge for registered campers only
Washers and dryers are coin-operated.  Change is available during office hours only
Please keep the facilities clean for fellow campers
Self Registration  – NOT available at this time – phone registration is available by contacting the Campground Office
Self registration is for one night only after office hours ONLY.
If you do not have cash, please leave your cell number to process a credit card payment. We do not accept personal cheques.
Please fill out the registration form located in the green mailbox. Must registration within 30 minutes of arriving at the site. Place the white copy of the registration with your payment inside the envelope and take the yellow copy for your records. Drop the sealed envelope in the slots.
Cook House and Day Use Area – COVID-19 Guidelines of limited use
Registered campers can book the Cook House through the Campground Office
Day use area is located in the centre of the campground and is for all campground users
Please keep your campsite clean at all times.  Remember to store all food in a safe place.  DOn not leave any food, empty cans/bottles, garbage, dog food, or bear attractants lying around
ATV Use
ATVs are not permitted to be operated in the campground.
Liquor
Alcoholic beverages are permitted in registered campsites only.
Damage Policy
Any damage to trees, sites, or any camp facilities will result in payment for the cost of clean-up, repairs, or replacement.
Liability for loss or damage to personal property or personal injury, while on campground property, is solely the responsibility of occupants and guests.
Failure to observe the above rules may be grounds for eviction.
Find us – Driving Directions
From Hinton, head north on Highway 40. Once in town, take the second right off Highway 40 onto Shand Avenue.
From Grande Prairie, take Highway 40 south. Take your first left off Highway 40 onto Shand Avenue as you arrive in Grande Cache.
From Highway 40, turn east on Shand Avenue, turn left on 104 Avenue and continue onto Memorial Drive. Turn right at the Campground sign.
Campground Hours
Office Hours 8:30 am – 7:00 pm (Note: Coins for laundry & payment for firewood during office hours only)
CONTACT INFORMATION
Grande Cache Campground
10401 Memorial Drive | Access Road to the Campground SW 1/4 3 57 8 W6
PO Box 1079 | Valleyview, AB | T0H 3N0
780.827.2404
campground.grandecache@mdgreenview.ab.ca
Resources