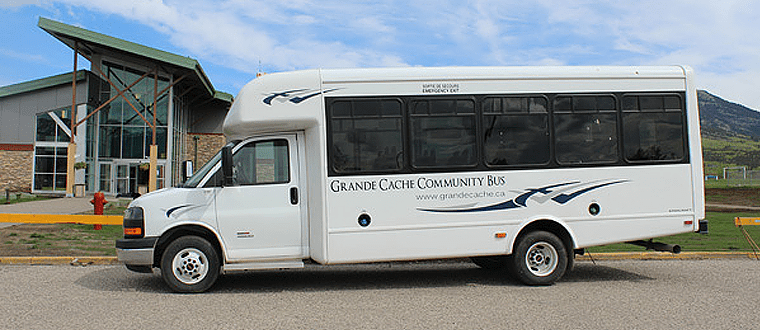 The Community Bus offers the following:
16 passenger bus, 2 wheelchair accessible spaces (as of July 3, 2020, maximum 3 passengers on bus (unless a family/cohort is riding the bus)
Group Bookings & Charters unavailable as of June 30, 2020
Bus Schedule effective:
– Weekly trips to Grande Prairie (every Tuesday) departing the Recreation Centre at 8:30 am and to Hinton (every Thursday)
– Pickup services at the Co-Ops & in town shopping every Wednesday
– Pickup services will be provided to the Co-Op, Enterprises & for the elderly and/or for people with disabilities that live in town, by calling or texting the bus driver at 780.827.8895 or call the Grande Cache Recreation Centre at 780.827.2446 24 hours prior to pickup and must be confirmed before 4:00 pm on Tuesday. by 4:00 pm the day prior if you need to be picked up for In-Town shopping days on Wednesdays
Cancelled November 13, 2020 until further notice.
The Grande Cache Community Bus is a sixteen passenger, two wheelchair assessable spaces that provides weekly trips to and from Grande Cache to Grande Prairie (Tuesday's), Hinton (Thursday's), and provides pick-up services at the Co-ops & in-town shopping (Wednesday's).
The Grande Cache Community Bus service is operated in partnership with:
The Municipal District of Greenview
The Grande Cache Seniors Minibus Society
The Government of Alberta
CONTACT
To book a seat or for more information, please contact: