We are more than just a tourism information centre.
Located on Highway 40 and surrounded by stunning panoramic vistas of the Canadian Rockies, the Grande Cache Tourism & Interpretive Centre has much to offer the curious traveller, newcomers to our community and long-time residents.
The Grande Cache Tourism & Interpretive Centre can provide all your tourism information needs; our friendly staff encourages you to explore our history and culture. We host community programs and events and provide school and special group tours.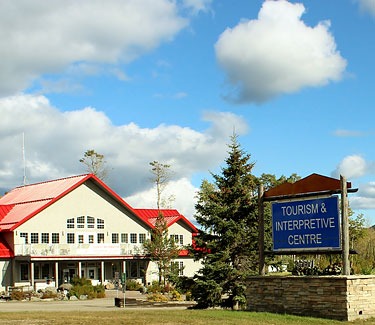 The Grande Cache Tourism & Interpretive Centre showcases the fascinating history of the area through exhibits and displays featuring ice age artifacts, dinosaur tracks, Aboriginal heritage and fur trading, full animal mounts, tree and geological descriptions and local industry.
There is also the Bighorn Gallery Gift Shop, the Esson Gale Art Gallery, and space available for meetings and conferences. Make sure to save time to tour the Bird's Eye View Park featuring interpretive trails and gazebo-style picnic areas, outside of the Centre. A replica of a "cache" along with other historic buildings is also on site.
REOPENING JULY 2, 2020 – COVID-19 UPDATES
Greenview is excited to announce that the Grande Cache Tourism & Interpretive Centre will reopen their doors on July 2, 2020. Our team is excited to welcome you back, and ask that you be patient and understanding of the new procedures we have set in place for your safety, and ours! Our facility will be open Thursday to Monday 9:00 am – 5:00 pm. Come and check out the fully-stocked gift shop and updated interpretive displays.
For the safety of our guests and staff members, please follow the below procedures:
Maximum 8 public members at the Grande Cache Tourism & Interpretive Centre
Please utilize floor markers to ensure physical distancing guidelines of 2 metres is adhered to
If all floor markers are occupied, please wait outside.
Entering into the facility:
Please use the hand sanitizer available and help yourself to gloves and/or a mask if you wish.
Complete the questionnaire with the pen provided. The pen is a gift for you to keep.
Present your completed questionnaire to one of our friendly customer service representatives located at the front desk.
Please ensure:
Do not enter the building if you have been experiencing any flu-like symptoms.
Please do not visit today if you have a cough or fever, or have travelled outside of Canada within the last 14 days.
Comply with physical distancing guidelines of 2 metres between individuals.
Follow all mass gathering guidelines and limit congregating when entering and exiting the area.
Wash or sanitize your hands before and after using the facility.
Thank you for your cooperation in a healthy and safe re-opening.
Hours of Operation:
Thursday to Monday 9:00 am – 5:00 pm
We will be closed to the public on Tuesday and Wednesday until further notice.
Indoor Amenities:
Information
Maps
Retail Gift Shop
Museum
Art Gallery
Wildlife, History & Industry Displays
Meeting Room Rentals
Home to Palette Pals Art Club f: Grande Cache Palette Pals
Home to Grande Cache Historical Society
Outdoor Amenities:
Bird's Eye View Interpretive Park
Historical Buildings
Picnic Area
Click here to view our facility
9701 100 Street (HWY 40), Grande Cache, Alberta
PO Box 1079
Valleyview, AB
T0H 3N0
780-827-3300 | Toll-Free 1-888-827-3790
tourism.grandecache@mdgreenview.ab.ca
grandecache.ca
Grande Cache Tourism & Interpretive Centre