A FIRE RESTRICTION is in place for the Grande Prairie Forest Area, portions of the Edson Forest Area and most areas within the MD of Greenview due to hot and dry conditions, which will increase the fire danger.
Under this restriction:
Existing fire permits are suspended;
All outdoor fires presently burning under a permit must be extinguished, unless approved to continue by a Forest Officer;
Safe wood campfires within fire rings in campgrounds and backyard fire pits are allowed.
Prohibited:
Wood campfires on public land
Fireworks and exploding targets
Allowed:
Wood campfires on private land
Wood campfires within provincial campgrounds in a designated campfire ring
Backyard fire pits on private land
Charcoal briquette barbeques
Propane or natural gas-fueled appliances
Indoor wood fires
Open flame oil devices
For a detailed map of the Forest Areas, please visit: Alberta Forest Areas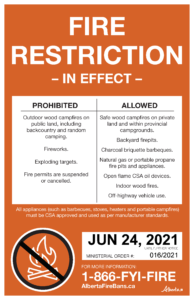 Remember to check the hot spots on your Off-Highway Vehicle (OHV) and remove debris before and after use.
Never leave a campfire unattended. Soak it, stir it and soak it again until cool to the touch to ensure it is extinguished. If you see a wildfire, report it immediately by calling 310-FIRE.
The fire restriction will remain in effect until conditions improve.