FOR IMMEDIATE RELEASE
May 15, 2022
Council Highlights – May 10, 2022
Valleyview, Alberta
Johnson Park to Get a Playground
Council approved the allocation of $150,000.00 for installing a playground at Johnson Park as a part of the 2022 Capital Budget. Administration recommended this playground project as it will increase the level of service at the recreation site, which currently provides both overnight camping and day use. It is anticipated that the playground installation will commence sometime in July. Council authorized Administration to award the Johnson Park playground contract to The Sweetman Group o/a The Playground Guys for a lump sum fee of $134,372.50 (excluding GST).
Greenview-Owned Vacant Lots in Grande Cache to be Listed for Sale
Council directed Administration to sell a small number of vacant lots owned by Greenview within Phase 6 of Eaton Falls Crescent in the hamlet of Grande Cache for estimated fair market value as per Schedule 'B,' which can be found in the Council Agenda package (Page 96) at https://mdgreenview.ab.ca/wp-content/uploads/2022/05/22.05.10-Agenda-Package_Redacted.pdf. Administration is working to determine the fair market values of the properties, and once listed, they will be posted on the Greenview website. A snapshot of the proposed vacant lots to be sold is below (Click image to make it larger):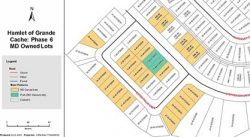 Greenview to Provide Equipment Use for Little Smoky Ski Area Tube Park Improvements
At the Little Smoky Ski Area Board meeting on April 7, 2022, the Board members discussed that changing the slope of the tube park with some dirt work could significantly reduce the amount of snow required to operate in the winter and have a positive impact on the operating budget. Council has directed Administration to provide equipment, at no cost, to the Little Smoky Ski Area for the Tube Park project.
Greenview to Enter into Possible Operating Agreement with Bighorn Primary Care Network for Grande Cache
As part of Greenview's ongoing commitment to access to healthcare in Grande Cache, Council directed Administration to enter into an agreement with the Big Horn Primary Care Network for the operation of the Grande Cache Medical Clinic facility until March 31, 2023, pending the funding proposal for the Big Horn Primary Care Network has been approved and the consent from Macro Seven Eight Corporation (operating as Macro Properties) has been granted. Council further directed Administration to continue a monthly rental agreement for $2,700 plus GST with Macro Properties for the Grande Cache Medical Clinic space lease until March 31, 2023.
-30-
Upcoming Events and Meetings
May 17, 2022 – Committee of the Whole, Valleyview Council Chambers
May 23, 2022 – Victoria Day Statutory Holiday, All Administrative Offices Closed
May 24, 2022 – Regular Council Meeting, Valleyview Council Chambers
June 14, 2022 – Regular Council Meeting, Valleyview Council Chambers
June 21, 2022 – Committee of the Whole Meeting, Grovedale Public Service Building
June 21, 2022 – Ratepayers BBQ, 5-7 PM, Grovedale Community Hall

Media inquiries may be directed to:
Stacey Sevilla
Manager, Communications and Marketing
Direct: 780.524.7625
stacey.sevilla@mdgreenview.ab.ca
Web: www.mdgreenview.ab.ca
To download a copy of the Council highlights please click here: Council Highlights – April 26, 2022